Events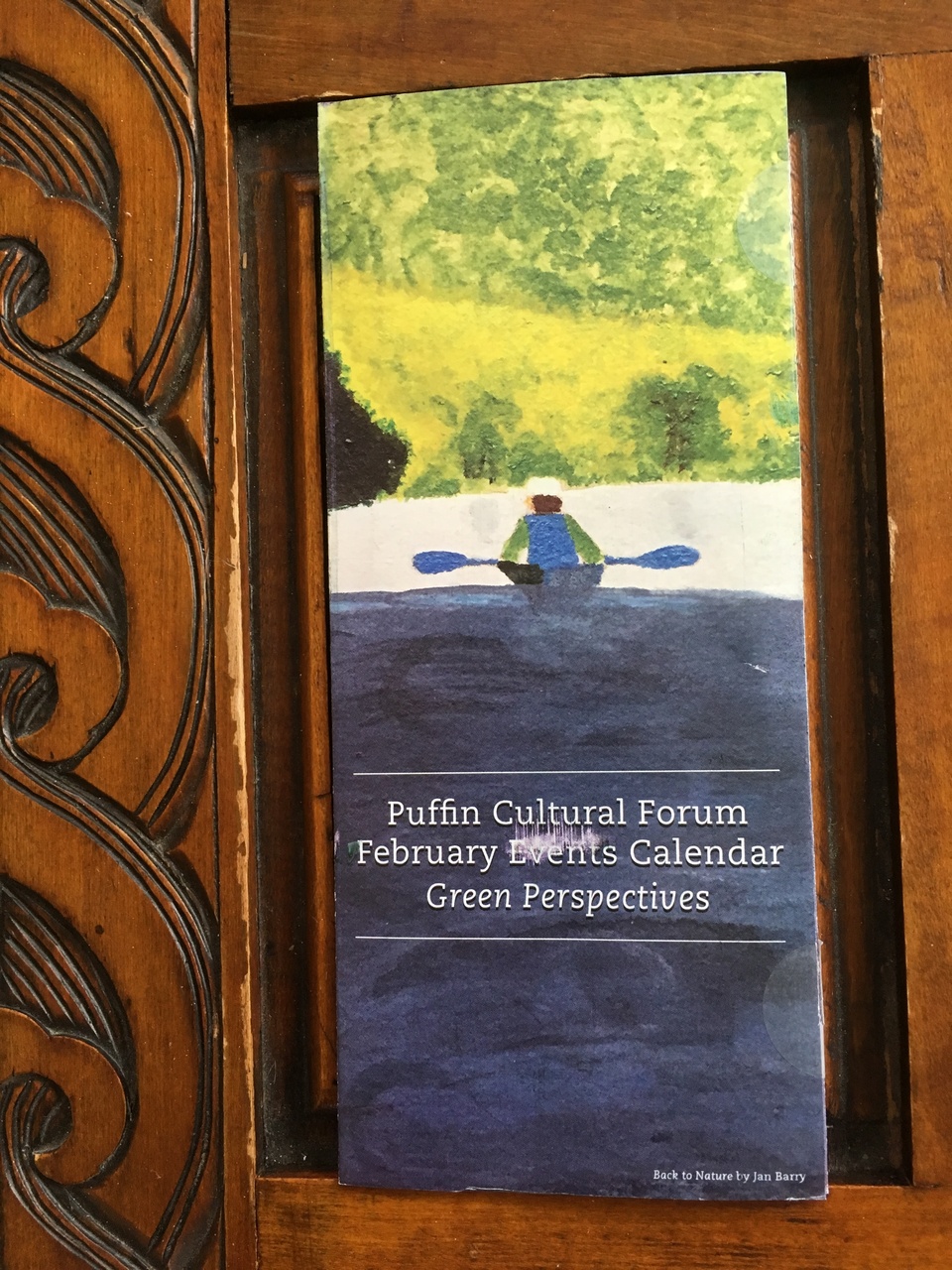 Green Perspectives Exhibit: the importance of environmental activism from three different perspectives. Works from NJ environmental artist Pat Brentano, veteran activists Jan Barry and Walt Nygard, Hudson Sloop Clearwater and Roy Volpe. January-February 2018. Puffin Cultural Forum, Teaneck, NJ.
Armistice Day 2018 Art Exhibit, curated by Walt Nygard, Ron Erickson and Jan Barry, November 2018-January 2019, Puffin Cultural Forum.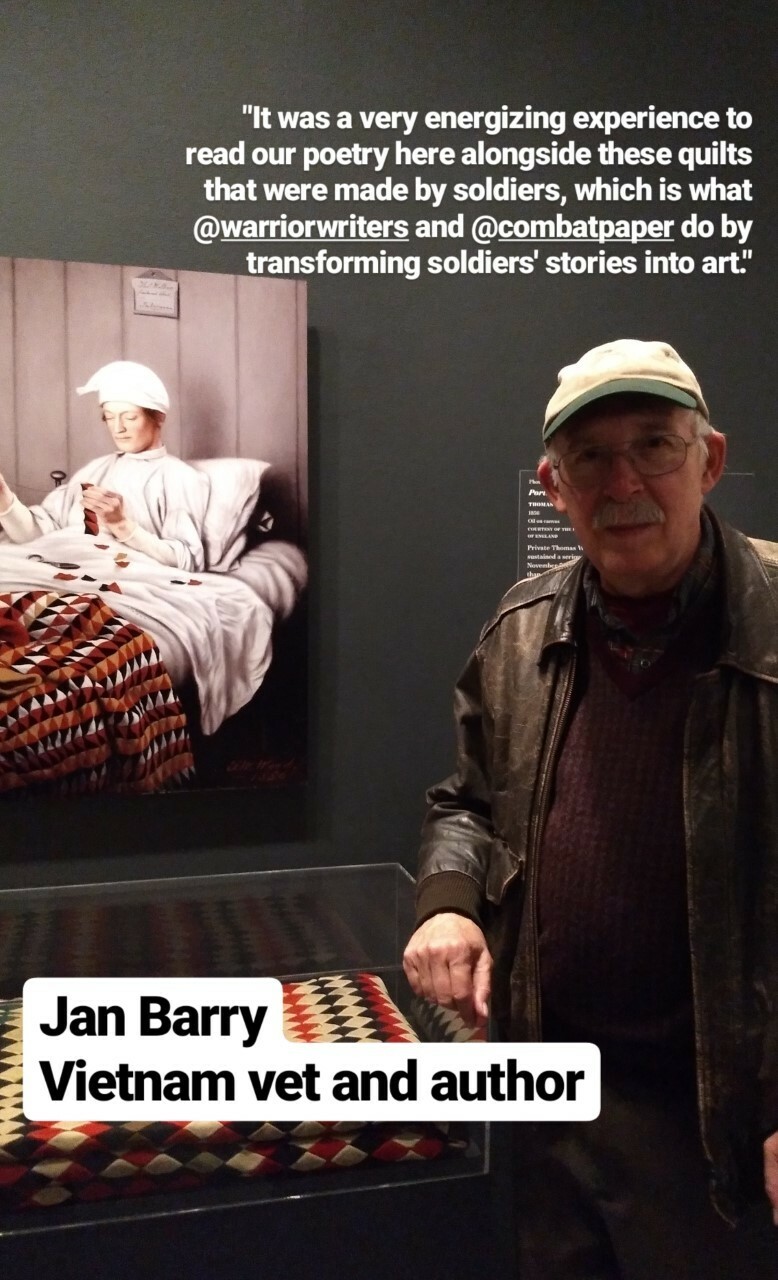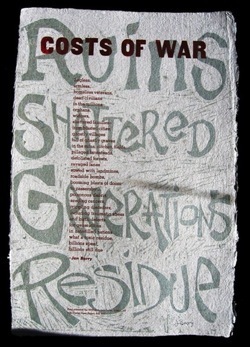 "Costs Of War" poster designed by Drew Cameron incorporating my poem with that title on display at the Corcoran College of Art & Design, Washington, DC -- as part of Arts, Military & Healing events, May 2012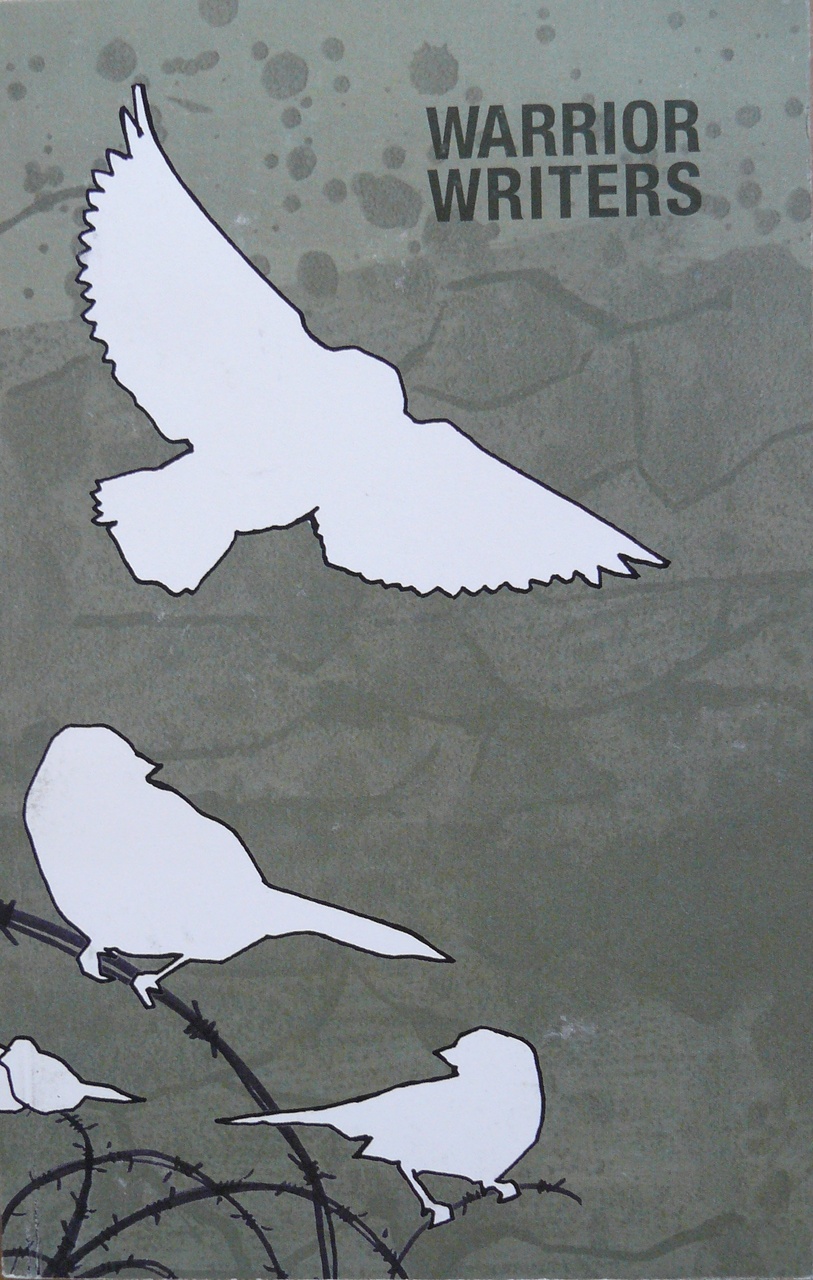 A literary troop from Warrior Writers took the stage October 25, 2014 at the Geraldine R. Dodge Poetry Festival at the New Jersey Performing Arts Center in Newark, NJ.

The group reading was a featured event billed "Another Kind of Courage," with performances by poets Yusef Komunyakaa, Charles H. Johnson, Brian Turner and others who are military veterans or military family members. Warrior Writers poets included Jan Barry, Kevin Basl, Chantelle Bateman, Jeremy Stainthorp Berggren, Lovella Calica, Hugh Martin, Jennifer Pacanowski, Carlos Sirah, Jon Turner and Eli Wright. Selections of their work are in a new anthology, Warrior Writers: A Collection of Writing and Artwork by Veterans, and previous works published by Warrior Writers, a nonprofit arts organization based in Philadelphia, PA.

Martin Farawell, Dodge Poetry Director, chose the theme of "Another Kind of Courage" to honor the transformational work that many veterans and military family members have made in turning anguish into art.


A Selection of Previous Engagements
(Montclair, NJ) Warrior Writers reading, Montclair Art Museum
(Washington, DC) "Peace Poetry" workshop and reading at Waging Peace exhibit, The George Washington University
(New York, NY) Poetry presentation, Waging Peace exhibit, Columbia University
(Oakland, NJ) Poetry presentation, Waging Peace exhibit, Oakland Public Library
(New York, NY) Veteran Voices 2019 performance, Wild Project
(Morristown, NJ) 70 South Gallery, Spoken word performance by David Keefe, Eli Wright, Jan Barry, Everett Cox

(Philadelphia, PA) A Shadow on Our Hearts: poetry reading by Vietnam veterans
Jan Barry, WD Ehrhart, Gerald McCarthy, Peter Mahoney, Lamont Steptoe, at Fergie's Pub, sponsored by Moonstone Arts Center

(Clinton, NJ) Frontline Arts 2018 Annual Benefit, Warrior Writers reading

(Reading, PA) Albright College, poetry presentation

(New York, NY) American Folk Art Museum, Warrior Writers reading

(Branchburg, NJ) "A New Century of War" art exhibition poetry reading at Frontline Arts/Printmaking Center of New Jersey

(Nyack, NY) Nyack Village Hall, "Artists on Combat Paper" exhibit poetry reading

(New York, NY) New York City Poetry Festival on Governors Island, Warrior Writers reading

(Albany, NY) Poets in the Park program with Catherine Arra, held at the Social Justice Center

(Teaneck, NJ) Puffin Cultural Forum, "Combat Paper & Beyond" poetry reading and art show of works by Eli Wright and other artists in Combat Paper program and Secaucus (NJ) Vet Center Art Group

(Madison-Florham Park, NJ) Warrior Writers poetry readings at Fairleigh Dickinson University's Wamfest, words and music festival 2015

(Oradell, NJ) Oradell Public Library, National Beat Poetry Festival participant

(New York, NY) School of Visual Arts, "The Vietnam War: A Teach-in on Truth and Relevancy" speaker

(Brooklyn, NY) Art 101 gallery, Warrior Writers poetry reading at "Beyond the Uniform: An Exhibition of Combat Paper" show

(Teaneck, NJ) Puffin Cultural Forum, "Vietnam on My Mind" poetry reading and art show of works by Nina Talbot and veterans in Combat Paper program and Secaucus (NJ) Vet Center Art Group

(New York City) The Great Hall at Cooper Union, Warrior Writers poetry reading at "Christmas in the Trenches" concert by John McCutcheon in commemoration of the 100th anniversary of the World War I Christmas Truce

(Oradell, NJ) Oradell Public Library, "A Soldier's View of Vietnam: Art, Poetry and War" slideshow presentation

(Newark, NJ) Lunchtime Poems in Military Park, showcasing a selection of poets scheduled to read in the 2014 Geraldine R. Dodge Poetry Festival

(Sewell, NJ) Dr. Ross Beitzel Art Gallery, Gloucester County College, "War and Peace: Art by Military Veterans" Exhibition of works from Combat Paper and Secaucus (NJ) Vet Center art workshops, curated by Jan Barry

(Hackensack, NJ) Bergen County Academies, "Viet Nam: A Poet's Point of View" presentation

(Jersey City, NJ) Brennan Gallery, Justice William J. Brennan Court House, "War & Peace" art show and poetry reading

(New York, NY) School of Visual Arts, "War, Art and Healing: A Veteran's Perspective" panelist

(West Chester, PA) Chester County Art Association/West Chester University, Warrior Writers poetry reading

(Washington, DC) Georgetown University, featured poetry reading at 90th anniversary conference of the War Resisters League

(Secaucus, NJ) Veterans Luncheon, guest speaker on Agent Orange health issues

(Conway, Arkansas) Hendrix College, Warrior Writers and Combat Paper Projects panel discussion

(Little Rock, Arkansas) MacArthur Museum of Arkansas Military History/ Arkansas Literary Festival, Warrior Writers/Combat Paper reading and panel discussion

(Newark, NJ) Rutgers Law School, panel discussion on veterans' assistance programs

(Brooklyn, NY) Brooklyn College, panel discussion on history and legacy of Vietnam Veterans Against the War

(Mahwah, NJ) Ramapo College, Ramapo River Watershed Conference panel presentation

(Philadelphia, PA) Temple University, "Poetry as Protest" panel presentation

(Branchburg, NJ) Raritan Valley Community College, "Viet Nam: A Poet's Point of View" presentation

(Philadelphia, PA) Moore College of Art and Design, Warrior Writers poetry reading

(Teaneck, NJ) Ethical Culture Society of Bergen County, "From Waging War to Waging Peace" talk and discussion

(Montclair, NJ) Montclair Art Museum, Combat Papermaking presentation

(Tenafly, NJ) JCC on the Palisades, presentation on "Toxic Legacy" issues

(Lubbock, TX) Overton Hotel, Society of Environmental Journalists conference, lunch discussion moderator

(Philadelphia, PA) University City Arts League, Warrior Writers Veterans and Community Conference

(Montclair, NJ) Gallery U, Combat Paper art show and poetry reading fund-raiser

(Carson City, Nevada) National Guard headquarters, Combat Paper workshop poetry reading

(Newark, NJ) Newark Public Library, Combat Paper fund-raiser poetry reading

(New York, NY) Nuyorican Poets Cafe, poetry reading with Warrior Writers NYC

(Teaneck, NJ) Healing from War through the Arts: Vets' Art Exhibition, Workshops and Readings, Puffin Cultural Forum

(Ithaca, NY) Unitarian Church, poetry reading with Veterans' Sanctuary members and supporters

(Governors Island, NY) First Annual New York Poetry Festival, Warrior Writers reading

(New York, NY) Poets House, "The Day After: Poetry by Veterans for Memorial Day and Every Day," Warrior Writers reading with Iraq and Afghanistan war veterans

(Piscataway, NJ) Rutgers University, presentation for 15th year at NJ Press Association/Rutgers Journalism Resources Institute workshop for journalists on reporting stories on municipal and school budgets

(New Brunswick, NJ) Rutgers University, "Tapping the Grassroots: Unofficial Sources - the News-making Role of Ordinary Citizens," talk as journalist in residence

(New York, NY) New York-New Jersey Trail Conference Annual Winter Meeting, Community Church of New York, presented workshop on open space advocacy

(Woodstock, NY) Kleinert/James Arts Center, Woodstock Poetry Society & Festival panel discussion with Brian Turner, Dayl Wise and Thomas Brinson, "The soldier-poet: why I write"

(Teaneck, NJ) Puffin Cultural Forum, reading at Costs of War cultural program

(Upper Nyack, NY) Fellowship of Reconciliation, "Poems for Peace from the World of War" poetry reading with veteran poets

(Boonton, NJ) Boonton High School, presentation at Vietnam era course

(New Brunswick, NJ) Rutgers University, presentations at Vietnam Legacy classes for more than 20 years

(Newark, NJ) Rutgers University Law School, panelist in seminar on New Jersey's Open Public Meeting Act sponsored by NJ Foundation for Open Government

(Washington, DC) Brookings Institution, presentation at "Winning Hearts and Shaping Minds: Public Diplomacy and International Education in an Age of Conflict" symposium

(Holmdel, NJ) NJ Vietnam Veterans' Memorial and Vietnam Era Educational Center, panel on "Weighing In On War: Public Opinion and Its Influences, Vietnam to Iraq"

(New York, NY) New School University, panel discussion on "Iraq and the Lessons of Vietnam," a new book edited by Lloyd C. Gardner and Marilyn B. Young

(Brooklyn, NY) Brooklyn Historical Society, panel discussion on Iraq and Vietnam wars

(New York, NY) Columbia University School of Journalism, guest speaker at news reporting class

(Burlington, VT) Environmental Journalism Boot Camp, Michigan State University's Knight Center for Environmental Journalism program at Society of Environmental Journalists conference, presentation on covering environmental issues as a municipal reporter

(Hoboken, NJ) Hoboken High School, panel discussion, "Leave No Soldier" Veterans Day Town Meeting

(Ithaca, NY) Unitarian Church, panel discussion, "Leave No Soldier" Veterans Day Town Meeting

(Portland, ME) Holiday Inn, Poetry reading with "Winning Hearts & Minds" and "DMZ" poets, Veterans For Peace convention

(Philadelpha, PA) Robin's Books, "When They Come Home," Warrior Writers reading with Iraq and Afghanistan veterans

(Highland Park, NJ) Marc's Place Coffeehouse, Reformed Church, poetry reading

(College Park, MD) University of Maryland, workshop on poetry for peace, Veterans For Peace convention

(Philadelphia, PA) Crane Arts Building, poetry reading at "Operation Rapid American Withdrawl" art exhibit

(Sparkill, NY) St. Thomas Aquinas College, presentation at "Literature & War" class

(Boston, MA) Boston Public Library, poetry reading

(New Brunswick, NJ) Rutgers University, poetry reading with Iraq veterans, students with Rutgers Against the War; remarks on Iraq veterans' Combat Paper Project at Brodsky Center for Innovative Editions Annual Exhibition at Mason Gross Galleries

(New York, NY) Dieu Donne artist workspace, poetry reading with Iraq veterans in Combat Paper Project

(New York, NY) Jews Uniting to End the War and Heal America conference, panelist on addressing veterans' issues

(Montclair, NJ) Presentation at fund-raisers for production of a documentary film, "Leave No Soldier," on ways war veterans cope with death and grief

(Smithfield, RI) Bryant University, panel discussion on "Leave No Soldier" documentary

(New York, NY) Pratt Institute, panel discussion on "Leave No Soldier" documentary

(Fort Worth, Texas) Investigative Reporters and Editors conference, panel presentation on "Toxic Legacy" project

(Paramus, NJ) Bergen Community College, panel discussion on "Toxic Legacy" project

(Mahwah, NJ) Ramapo College, presentation on "Toxic Legacy" project to environmental studies class

(Mahwah, NJ) Ramapo College, presentation on "Toxic Legacy" project at Ramapo River Watershed Conference

(New York, NY) New York University, presentation on "Toxic Legacy" project to investigative journalism class

(New Brunswick, NJ) Rutgers University, presentation on "Toxic Legacy" project to investigative journalism class

(Newark and Paterson, NJ) Presentation to New York University journalism students on bus tour of historic industrial areas in New Jersey

(Hackensack, NJ) Journalism program for Lakeland Regional High School class visiting The Record newsroom

(Wanaque, NJ) Wanaque Elementary School and Haskell Elementary School, Newspaper in Education program classroom visit

(Trenton, NJ) New Jersey Land Conservation Rally panel on "Communicating Your Message to the Press and Donors"

(New York, NY) Quad Cinema, Greenwich Village, panel discussion after showing of "Winter Soldier" film

(Princeton, NJ) Princeton Public Library, panel discussion after showing of "Winter Soldier" film

(Chicago, IL) Roosevelt University, panel discussion and poetry reading, Vietnam Veterans Against the War 40th anniversary celebration

(Boston, MA) Emerson College, panel discussion on veterans' literature, Veterans For Peace convention

(Brooklyn, NY) Long Island University, panel discussion on "Soldier-Poets of the Vietnam War" at Veterans of the Vietnam War: Vietnamese & American Perspectives conference